Update on Uzalo's Nkunzi death report
Mzansi Tips
I'm a Bachelor of Arts, majoring in Linguistics and Psychology,…
Recently, it was trending news, specifically, on social media that Masoja Msiza is dead. The actor, who plays the role of Nkunzi Mhlongo on Uzalo. It is alleged that the Iconic star had passed on in a horrific car accident. That  took place the morning of the 3rd of September, yesterday.
However, the Uzalo soapie team confirmed on Twitter that Masoja Msiza is not dead! They confirmed that he is actually alive and very much well despite the rumours.
For those of you that may need a reintroduction of who Masoja is…
Well, he is multi talented individual award winning actor, poet and musician. Famously known for his most beloved villain character on UZalo as Nkunzebomvu Mhlongo. He plays a character of a man who is very power hungry, strong, courageous and has little or no regard for others.
He is a well-known gangster, who is in a car theft criminal business. He is one of those television villains we love to hate, with his passionate petite acting. Nkunzi is known to kill anyone who ever attempts to stand in his was. Furthermore, if they try to ruin his plans or try and stop his bag. A legendary character he is on our screens!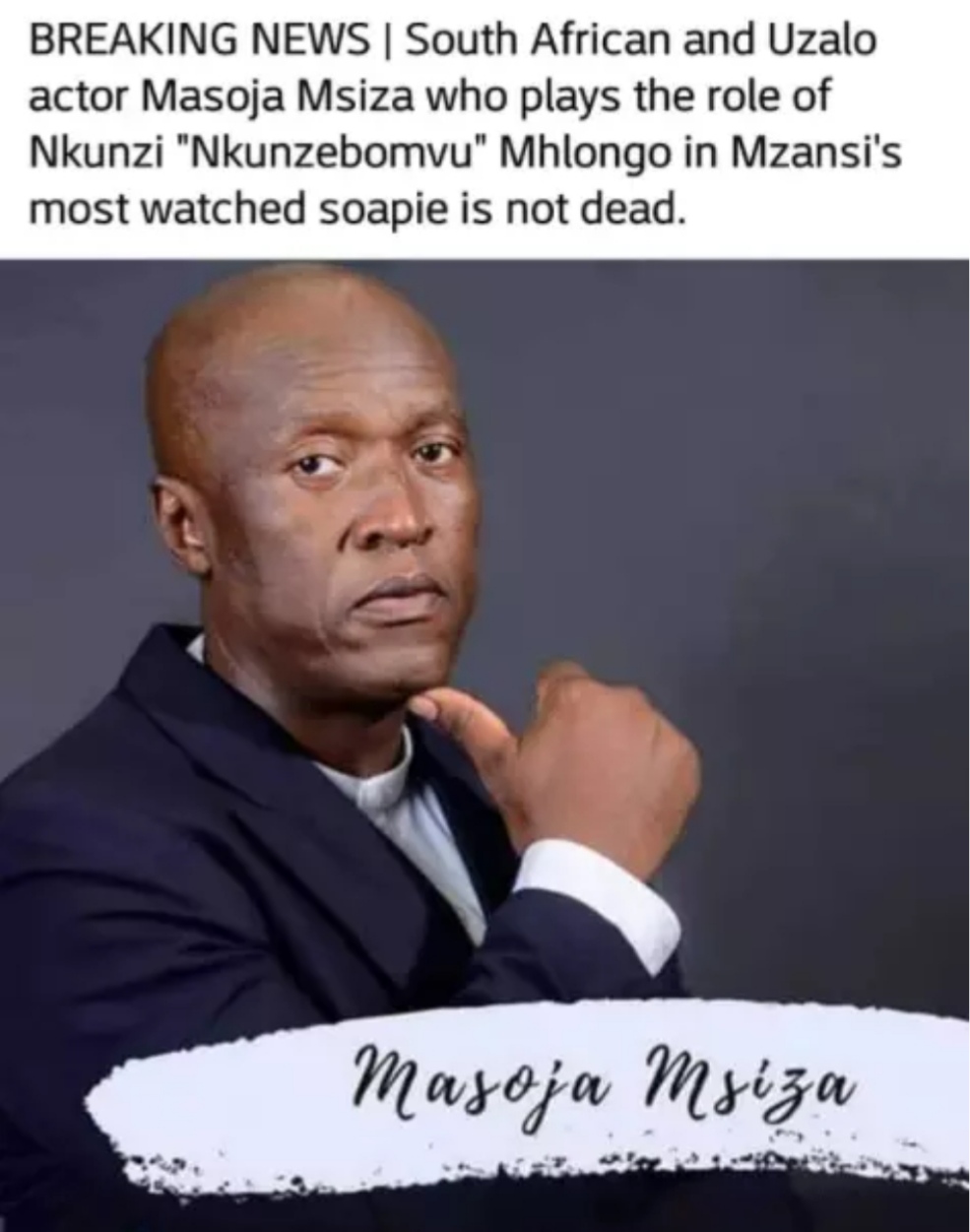 However, if we are speaking from a serious point of view, we still have a long way to go as a country. Because, we think making jokes about the death of someone is somehow part of entertainment.
Nonetheless, people should refrain from such disgusting and inappropriate behavior. Rather, respect other people's lives because even celebrities are human beings too!
Mzansi Tips
I'm a Bachelor of Arts, majoring in Linguistics and Psychology, and Post Graduate Certificate in Education graduate trying to make something out of my qualifications and to break it into the entertainment industry.