WATCH: School girls beat up guy for stealing their phone 

Mzansi Tips
I'm a Bachelor of Arts, majoring in Linguistics and Psychology,…
School girls have been doing the most lately. If they aren't facing off each other after school they are throwing fists and kicks at phone snatchers! The latest incident caught on camera, in Bloemfontein CBD, displays two high school girls man-handling a guy. The guy allegedly stole their phone.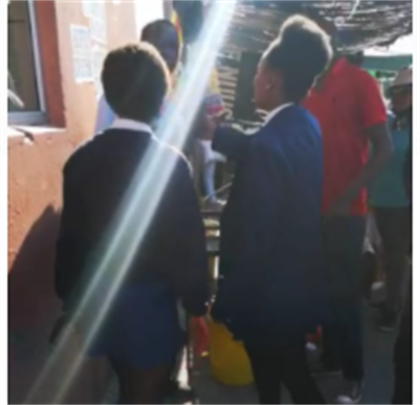 Apparently, the man ran off with their cellphones. But, was chased after until he was caught up in a nearby taxi rank. On the video, the girls are seen shouting "Give us our phone back! Where did you hide our phone? You thought you'd get away from us that easily. Hand over the phone"!
Although, the accused man is also heard responding "I didn't take anyone's phone. It wasn't me, you've got the wrong person". 'Dailysun' sources confirmed that they came in just right after the man had already felt the wrath of the two girls.

Additionally, during the confrontation, another phone fell out of the accused man's pocket. However, bystanders kicked the phone out of their way as the girls insisted it wasn't the one they were after. The incident ended off with the two girls giving up on the accused. Thus, leaving him a chance to escape.
When the 'Dailysun' team interviewed one of the bystanders, a local taxi driver commented "We don't tolerate violence near our work environment. This time we didn't intervine because we saw the girls had it all under control but would have if the man fought back".
*Link to the video-https://mobile.twitter.com/dailysunsa/status/1307335930697715714?ref_src=twsrc%5Etfw%7Ctwcamp%5Etweetembed%7Ctwterm%5E1307335930697715714%7Ctwgr%5Eshare_0&ref_url=https%3A%2F%2Fwww.dailysun.co.za%2FNews%2Fschool-girls-moer-suspected-phone-snatcher-20200919
Mzansi Tips
I'm a Bachelor of Arts, majoring in Linguistics and Psychology, and Post Graduate Certificate in Education graduate trying to make something out of my qualifications and to break it into the entertainment industry.